Would you consider yourself to have visited South Korea if you haven't had local BBQ? Aside from other famous Korean dishes such as spicy rice cake and bibimbap, Korean BBQ is also considered one of the most well-loved dishes among locals.
A trip to Seoul is never complete without visiting BBQ restaurants – at least once! (Although most of us would do it more often.) There are many types of BBQ restaurants in Seoul to choose from, offering everything from pork belly and Jeju black pork to premium Korean beef.
We have compiled a list that locals love, with options that will fit into every budget.
1. Saemaeul Sikdang
For those who have been keeping up with Korean cooking shows, you might have already heard of Korean chef, Paik JongWon. He is the owner behind chained coffee shop 'Paik's Coffee' and also Korean BBQ restaurant 'Saemaeul Sikdang'. His success as a chef has also allowed him to gain recognition from the public, which explains why there are always crowds at his Korean BBQ restaurants.
Source: Naver Blog @boreum0225
One of the signature menus at Saemaeul Sikdang that you should definitely try is their 'Yeontan bulgogi' that can be translated as 'fireball bulgogi', which – as you would have guessed – is slightly spicy. For those who are unable to take the spice, you can order their 'Saemaeul bulgogi' that is non-spicy.
One serving of 'Yeontan bulgogi' costs KRW9,000, which is equivalent to SGD10.50.
This restaurant can be found easily in many popular tourist locations such as Hongdae, Gangnam and Myeongdong.
>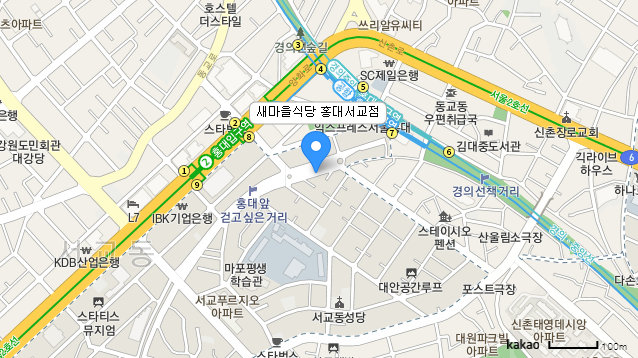 2. Ginger Pig
Compared to the usual BBQ restaurant that you might encounter, Ginger Pig, which is located in Hongdae, is decorated with a younger and more casual interior.
Some customers shared that they would not have thought Ginger Pig was a Korean BBQ restaurant had they not seen the menu!
Source: Naver Blog @migmig89
One reason why this restaurant is so popular is because of their juicy and thick pork belly that locals absolutely love.
Source: Naver Blog @migmig89
Patrons love how the grilling pans at this restaurant comes with a portion where you can place perfectly barbecued meat on so you won't overcook it – every thoughtful action counts!
Their basic pork belly prices at KRW14,000 KRW (~SGD16.30).
3. Gogigoon Kim ChoonBae
Hongdae is probably one of the most popular places to visit for tourists. The university area that's frequented by undergraduates features affordable shopping and rows of Korean BBQ restaurants. Street buskers add to the charm of this area.
One of the most well-reviewed Korean BBQ located in Hongdae is none other than Gogigoon Kim ChoonBae. Their decoration is well-loved by many customers as it gave off a rather private atmosphere compared to most BBQ restaurants.
Source: Naver Blog @dyfn_
They offer set menus where you can order BBQ pork belly paired with a selection of Korean alcoholic beverages.
Source: Naver Blog @dyfn_
Their basic pork belly prices at KRW14,000 KRW (~SGD16.30).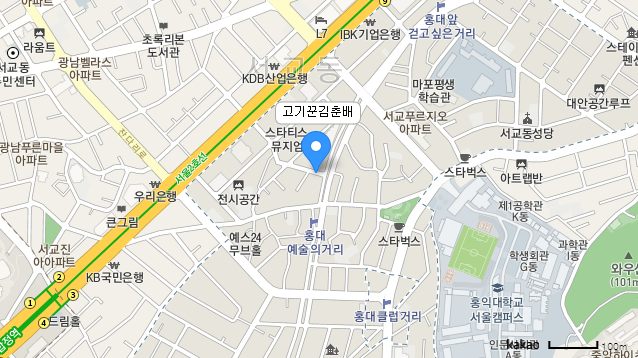 4. Ggot Dwaeji Gallery
Korean BBQ lovers, you're going to love Ggot Dwaji Gallery, a Korean BBQ buffet concept where you can as much as you like.
They have three branches in Seoul but the most visited outlet is in Hongdae.
Besides from the free flow of meat available, they also provide corn cheese, chicken feet, and also sweet and sour chicken.
Source: Naver Blog @grace_minji
They charge one person for KRW12,900 (~SGD15).
5. Baetjang
Most of the time, solo-travelers in Seoul will have a hard time finding Korean BBQ restaurant that offers only one serving of meat – but don't worry as we've got you covered!
Baetjang allows customers that dine alone to sit near the bar and provide you with your own mini charcoal grill.
Source: Naver Blog @5425won
The solo-diner-friendly setup isn't the only reason why patrons love to visit them. Their location in Yeonnam-Dong also makes it attractive; this is currently one of the most hip neighbourhoods visited by young adults.
Source: Naver Blog @5425won
Prices are slightly steep, though. At KRW35,000 (~SGD41), you get one portion of beef cubes and one portion of ribeye, with various side dishes.
6. Eun JooJeong
Ever since Eun JooJeong appeared on tvN "Wednesday Food Talk", a TV programme that features restaurants that serve delicious food and are worth visiting, they have become one of the most popular restaurants that you'll never miss when talking about K-BBQ.
Source: Naver Blog @bsb7411
But if you're intending to visit Eun JooJeong, remember to plan it into your dinner because they only serve kimchi stew during lunch. BBQ meat is only served during dinner.
Source: Naver Blog @sooooong2
One great thing that patrons love is how they serve a wide variety of side dishes that include acorn jelly, spring onion kimchi, and even soy sauce marinated crab!
Dinner service starts from 5pm daily, and you can order pork belly at one serving for KRW11,000 (SGD13).
7. Yook TongRyeong
If you are into thick and juicy Korean BBQ meats, this might just be the restaurant for you. This restaurant was also recommended by tvN "Wednesday Food Talk", and we've heard that they're so popular, there had been instances when customers cleared them out of all their ingredients!
Source: Naver Blog @5wanabe82
One interesting highlight of this restaurant that many satisfied customers pointed out is that they provide six different sauces for you to dip the BBQ meat in.
Source: Naver Blog @asy_90
Their signature black pork costs KRW19,000 that is equivalent to SGD23 for one serving.
8. Godae Gogi Jib
South Korea has a vibrant university culture, and if you're intending to check out university campuses during your trip to Seoul, you might want to consider visiting Korea University.
Besides the European inspired buildings and wide field that many students love to chill at, they also have an affordable Korean BBQ restaurant near them that they are proud of.
Source: Naver Blog @mineraljiwon
Godae Gogi Jib is one of the most popular restaurants among undergrads at Korea University. Besides their delicious fare, they're also loved for their affordability – three portions of pork belly go for just KRW14,900 KRW (~SGD18.50)!
Alternatively, you can consider their special menu that comes with three portions of pork belly and corn cheese for KRW16,900 (~SGD21).
Adding on to the wow factor, they also provide free soybean stew and steam egg for an even more filling meal.
9. Bongwoo Hwaro
Aside from thick pork belly, many Koreans also enjoy thinly sliced beef loin. If you happen to be in the Gangnam area and love thinly sliced beef loin too, you definitely should check out BongEun HwaRo.
Source: Naver Blog @ykswkd123
Their specialty is in beef loin and prices each serving at KRW11,000KRW (~SGD13.40).
Aside from beef loin, they also have the basic pork belly, wagyu beef, and many more types of meats for you to choose from.
10. Heuk Donga
Jeju island is famous for their black pork belly but if you only have plans to explore Seoul, you should definitely visit Heuk Donga located in Samsung area!
Source: Naver Blog @sshj1502
Just by looking at their exterior, you could already tell how popular they are; they have two levels and still see long queues during meal-times. Many locals share that you should either queue early or make a reservation to ensure that you do not have to wait for too long to get a table.
Source: Naver Blog @sshj1502
Their black pork is available at KRW18,000 (~SGD21.60) and it comes with basic side dishes such as kimchi, garlic, lettuce, and a special dipping sauce.
11. Wado Pig
Most of us associate restaurants in the Gangnam district as high-end and expensive, but Wado Pig is going to blow your mind away with their prices.
Source: Naver Blog @ikar89
With one serving of pork retailing at just KRW6,500 (SGD8.20), Wado Pig is certainly a hidden gem in the upscale district.
Besides from having BBQ pork, the restaurant is also famous for their heart-shaped fried rice. Customers remark at how their staff always cooks the fried rice with 'love' (both literally and metaphorically!) and how friendly the restaurant's boss is.
12. Maple Tree House
If you are worried about the language barrier when you order, then Maple Tree House is where you should head to.
Located at the heart of Itaewon, this BBQ restaurant is rated as one of the most foreigners-friendly in Seoul.
Source: Naver Blog @hongji87
Make sure to try out their perfectly sliced premium Korean aged beef that will definitely melt in your mouth.
One serving is priced at KRW39,900 (SGD48).
13. Chon Nom
Daehak-ro is a university street that many youngsters love to hang out at. You'll also regularly see buskers showing off their talents at this area.
If you're checking out this district to soak up the vibrancy of the atmosphere, consider visiting Chon Nom, a Korean BBQ restaurant where you can snag good deals.
The restaurant has various daily deals such as a 1-for-1 beer on Monday, or a 1-for-1 bottle of Soju on Tuesday, and so on.
Source: Naver Blog @mj4710
Their signature pork belly is priced at KRW16,000 (~SGD19.30) for one serving.
14. Yeontan Jib
Are you visiting the famous Noryangjin Fishery Market? If you happened to be in that area, you could consider heading to Yeontan Jib for a delicious Korean BBQ meal.
The exterior of the restaurant may look like any other traditional BBQ restaurant but the food they serve is anything but average.
Source: Naver Blog @leenarae_
One serving of their pork belly is priced at KRW7,000 (~SGD9.30) and it also comes with a bowl of free soybean stew that feels great in the tummy after all that BBQ meats.
15. Palsaek Samgyupsal
If you have an experimental palate and are interested to try a variety of marination, then Palsaek Samgyupsal (which can be translated to '8 colors of pork belly') might be the place for you.
Source: Naver Blog @ezyhyee
The "eight flavours" they were referring to, include: wine, curry, garlic, pine needles, herb, red pepper sauce, and soybean paste.
Enjoy this experience at KRW36,000 (~SGD42.80).
LATEST PRIVILEGES